Regional revitalization policy contest: Calling for policy ideas that address regional issues and revitalize the economy
2017.5
The Regional Creation Office held a policy ideas contest in 2016, to encourage local citizens to utilize the Regional Economy Society Analyzing System (RESAS) to provide solutions to the regional issues and encourage economic revitalization. RESAS is a system that consolidates public and private big data such as industrial structure, population, dynamics and economic activity. The detailed data together with the inbuilt visualization and analysis tools make it a valuable tool for policy planning and decision making.
For more information on RESAS please see https://resas.go.jp/#/13/13101.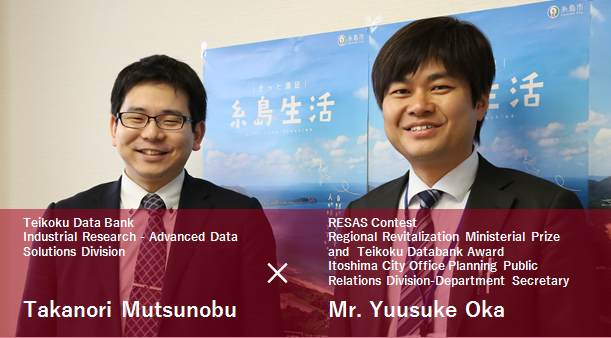 The Mr. Oka Yuusuke of Itoshima City Office in Fukuoka was awarded the 'Minister for Regional Innovation Prize' and 'Teikoku Databank Award'. Discussions were held with Mr. Takanori Mutsunobu of Teikoku Databank on regional revitalization from the perspective of 'local government management'.

Discussion Summary
Big Data Analytics TOP